Lakadong Turmeric is a versatile spice grown in Meghalaya by the farmers of Jaintia Hills District. BEE Natural's Lakadong Turmeric powder is one of the finest quality of Lakadong turmeric with high Curcumin content. It is sourced, tested, processed, and packed with care to ensure a 100% pure and natural product just for you. A spice used to create a variety of dishes from savoury to sweet, depending on your liking and the occasion. This spice is a must-have in all kitchens, especially in Indian homes. If you are someone who loves to be around the kitchen, you surely would have learned of this golden spice from a young age.

A root similar to that of ginger, however, tinted with a bright golden hue, is known to stain your hands when in use. In kitchens, you will find this golden-hued spice in the kitchen racks normally in a dried and powdered form. Back in the day, our ancestors made use of lakadong turmeric in its whole natural form. As years passed and modern science played its part in the evolution of food, it was found that grinding turmeric to a powdered spice makes it easier for consumption. Not to mention prolonging its shelf life.

You can add a pinch or two of it to your food and it will give your dish an appealing colour and an aroma that will tickle your taste buds. Whether you are a vegetarian or a non-vegetarian this spice is versatile enough for you to make fish curry, your favourite stir-fry veggies, or even a soothing Turmeric Latte drink to revitalize your senses.

Sounds interesting? Well read on further and we will share with you two of our favourite recipes using BEE Natural's Lakadong Turmeric.

We all look forward to a drink at the end of a long tiring day that can soothe us and relax our senses. Instead of turning to a cuppa chai or coffee, why not try a healthier option. Before preparing your dinner why not sip on Lakadong Turmeric Latte. Lakadong Turmeric Latte is a twist on the traditional Golden Milk or should we say Turmeric Milk. A healthy drink made with a blend of spices, packed with the goodness of antioxidants.
o make your very own Lakadong Turmeric Latte all you need is:
Ingredients:
½ tsp BEE Natural Lakadong Turmeric Powder
¼ tsp BEE Natural Cinnamon Powder
¼ tsp BEE Natural Ginger Powder
¼ tsp BEE Natural Black Peppercorns (grounded)
1 tsp BEE Natural Honey
½ tsp Cardamom Powder (optional)
100 ml of whole milk or coconut milk
Steps:
Combine all the spices together. Then add one teaspoon of the spice mix to a cup and pour in the milk. Add ½ tsp of honey and stir well. Microwave the Latte for a minute or pour the latte into a pan and heat it over the fire for a minute. Once the spices are cooked, pour the Latte into a cup and enjoy.
While you sip on your Lakadong Turmeric Latte, why not make use of the same golden spice and prepare a light dinner-making some Crispy Golden Fish. Crispy fried fish tastes amazing when you use the variety of small river fish available in the market. So pick up some small fish of your choice and let's start cooking!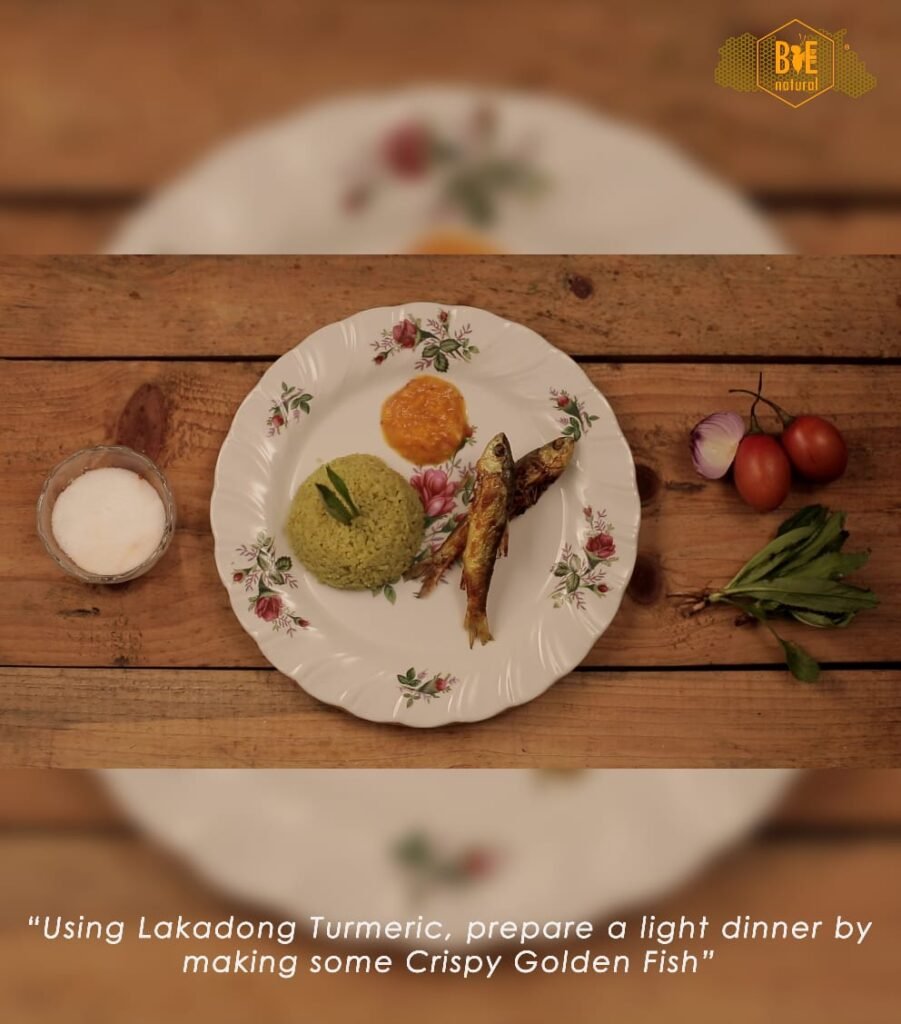 To make your Crispy Golden Fish all you need is:
Ingredients:
250g Small river fish (of your choice)
1 tsp BEE Natural's Lakadong Turmeric powder
½ cup refined oil (of your choice)
Salt to taste
Steps:
After washing and cleaning the fish, make a paste of the Lakadong Turmeric with ¼ tsp of oil and salt. Heat up the oil in a deep pot and meantime rub the turmeric paste evenly on the fish. When the oil is hot, fry the fish till golden brown. Enjoy the Crispy Golden Fish recipe with some freshly cut salad and rice.
We hope you enjoy your evening by relishing some of our favorite recipes. Until then, do stay tuned as we have more in store for you!
Latest posts by BEE Natural
(see all)