BEE Natural traveled to Mupliang, a tranquil village located in West Jaintia Hills District in Meghalaya. We witness some of the most authentic and traditional methods our farmers follow to give you the finest quality of Lakadong Turmeric or as the local farmers call it 'Shrymit Lakadong'.
Now more than ever people are looking for healthy sources of purely farmed products. Many want to know if they can trust what they are eating. They are looking for spices that are locally grown, naturally packed with nutritious benefits and grown completely free from pesticides or chemical fertilizers.
We assume since you're reading this, you surely are interested in knowing more about how BEE Natural has the finest, premium quality of Lakadong Turmeric. So let's go straight ahead. If you didn't know, Lakadong Turmeric is one of the World's Best Turmeric cultivated exclusively in Jaintia Hills District in the state of Meghalaya. Globally known for its special quality which is its Curcumin content, a compound substance in Turmeric which gives it the rich golden hue packed with nutrients. The lakadong turmeric we offer at BEE Natural is comparatively high in Curcumin to a count of 6-9%. To top that off, our farmers also make sure the lakadong turmeric is taken utmost care of, from the cultivation to the time it hits our manufacturing center.
Shyrmit Lakadong, as the locals call it, is cultivated in vast farm lands in Jaintia Hills in the spring months of March – April and they are harvested in the winter months of January – February. BEE Natural was fortunate to visit the farmers just at the right time, enabling us to give you a glimpse of the farmers as they follow the process of cleaning, washing, slicing and sun drying the Shyrmit Lakadong. A drudgery, not for the faint in heart, as they clean off the roots and earth off tonnes and tonnes of turmeric. All gather together, women and men, both young and old as they spend days and weeks to sort out their harvest. They take the freshly sorted turmeric to the nearby rivers and wash them clean till the lakadong rubs off its golden hue on their calloused hands. Once they are washed squeaky clean, the women sit close together and slice the lakadong turmeric as thinly sliced as possible. Whilst exchanging stories with one another and making hay as the sun shines; literally. Fully engrossed in what they do, however so accustomed to it, they know it as well as the back of their hand that they need not look. No sooner are they done slicing the lakadong turmeric than they are laid outfront on a mat to sundry the precious golden slices of turmeric. Three months; yes that's right. It takes up to three months to dry these golden-orange slices before they are ready to be sent to our BEE Natural Manufacturing Center and converted into the golden dust we all use for flavouring our food.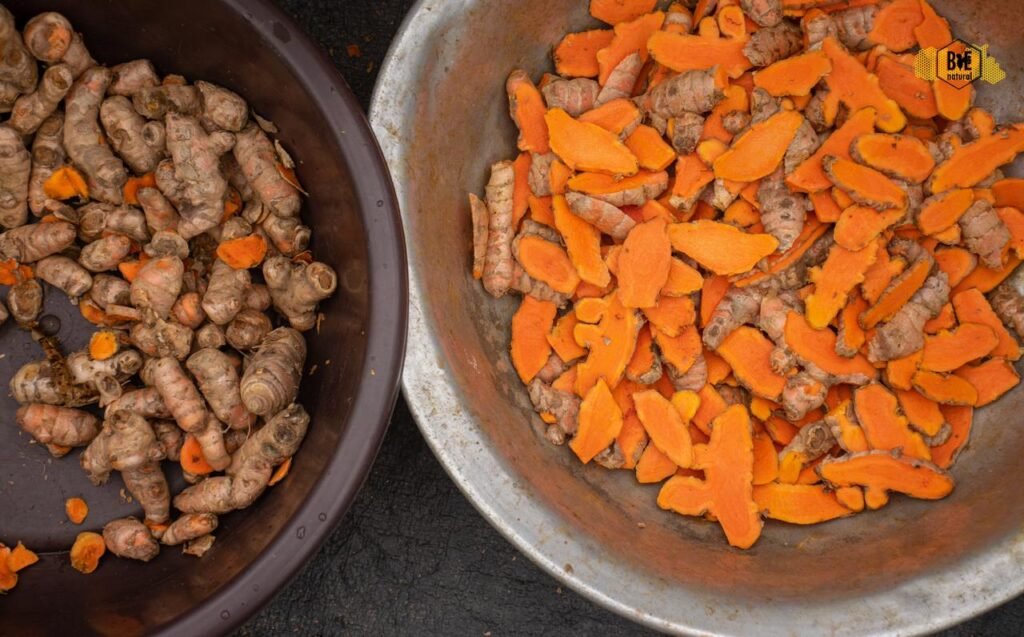 So, BEE Natural can guarantee we have for you only the purest and the most authentic Lakadong Turmeric. Grown and manufactured with love and care, so that we can provide your family and loved ones a healthy, nutritious and chemical free meal with every sprinkle of this golden dust – the Lakadong Turmeric.
We hope to have tickled your curiosity and would like to hear from you. We'd be delighted to hear your views or queries in our comments. To know more about Lakadong Turmeric do head out to our Shop page on our website.